Completed Property Club – Details For Reference & Research
Unique Property Syndicate 3
£61,000

 

Gross Profit
Strathy Point Lighthouse Compound
An object lesson in making large indigestible sites with several buildings into very successful syndicate projects. By purchasing the whole compound – then distilling each house and reselling the single properties.
The sum total £££s of the parts can be significantly greater than the whole.
Our UPS3 – Strathy Point Lighthouse Compound Purchase & Resale
This WHOLE compound was bought by our unique property syndicate in 1999. Originally the Northern Lighthouse Board sought "offers over" £80,000 for all of their buildings in this large compound (tower excluded as it was still operational). However, we managed to negotiate the eventual price our syndicate paid down to £60,000.
Please remember these were 1999 prices
There has been a significant countrywide capital price increase during the intervening 17 years.
Following purchase, we were really keen to hang onto this whole lighthouse compound for the long term. However, our marketing effort hit all the right notes and when we made single properties available for resale, we got a good amount of national newspaper coverage. This resulted in substantial offers for each dwelling being submitted to us. So high, that they were difficult to refuse. This was one of those syndicates we almost wanted to fail at resale – so we would end up "stuck" with these fine lighthouse keeper's homes in this sublime coastal setting. But hey, if the following numbers are what pass for a losing syndicate, then keep your socks on for when we all win.
The final result for completed Unique Property Syndicate 3 …
£61,000 Gross Profit
A spectacular case of literally doubling the money.
Details…
UPS3 – Purchase Price of WHOLE lighthouse Compound (in 1999): £60,000
The syndicate solicitors distilled each individual lighthouse keepers' house from the main title and re-registered the single dwellings with HM Land Registry. Audit trail and official purchase and resale records provided further down this page.
We were then able to resell each separate lighthouse keeper's house for…
Resale of Principal Lighthouse Keeper's House & Engine Room (1999): £35,000
Resale of First Assistant Lighthouse Keeper's House (1999): £33,000
Resale of Second Assistant Lighthouse Keeper's House (1999): £32,000
Resale of Occasional Lighthouse Keeper's House (1999): £15,000
Resale of Garages and Miscellaneous Land (2000): £6,000
UPS3 – Total Resale Proceeds Inbound: £121,000
UPS3 – Gross Profit For Strathy Point Lighthouse Syndicate: £61,000
Our Unique Property Syndicate 3 – Strathy Point Lighthouse Compound Purchase & Resale
*******
The Magic Formula
We are often asked whether there is a secret to syndicate success. Well in this instance, not a secret but a solid case of applying sound logic…
There are more folk who can afford, and want to buy single individual lighthouse keepers houses, than the few who are able to buy a whole, financially indigestible compound with four or more buildings included in the package.

A relative scarcity of single lighthouse buildings mean increased demand – so the price for these goes up.

A multi-property site is classed as a commercial purchases and as often is the case, if finance is required, then a high deposit mortgage results in fewer people/organisations that can buy a whole compound. The economic principles of supply-and-demand kick in: the price for a big compound comes down.

So if there is a secret to success, it appears unique property syndicates apply this by purchasing large compounds with several buildings in the title and have the solicitors split these into smaller manageable properties for resale. By this efficient economic model, our property club can make an interesting profit in the margin. That is the theory. The purchase and resale numbers on this page illustrate whether this works or not.

Of course we always have "Plan B": that is if we become stuck with the buildings, should they fail to sell. All of us at UPS3 were more than happy if we ended up in that scenario. Win, win.
With some excitement here at Unique Property Bulletin we can advise the protocol which achieves such enjoyable property club results is eminently repeatable. We know of at least TWO suitable lighthouse compounds for sale by private owners at the moment. Click here and here.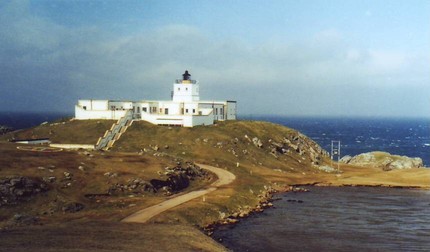 Our UPS3 – Strathy Point Lighthouse Compound Purchase & Resale
In addition, and with much enthusiasm, we can report that the Northern Lighthouse Board will steadily start releasing these traditional lighthouse compounds for sale over the next couple of years (this page was created in 2016). Example of forthcoming NLB lighthouse compound sales: click here (password recovery here). 
Title Splitting – The Works – Points To Consider
It is important we detail the three key elements to making this process work…
No mortgage debt. With our property syndicates, as an important rule, we don't deal with banks, nor commercial finance. We employ 100% of purchase funds from our core syndicate resources. This means we can buy whole compounds, and be smart about it, moving efficiently and concluding the purchase promptly.
More people want a single house than a multiple-building package. From 25 years experience, we have a large amount of research and data that indicates there are many more people able to buy single lighthouse buildings than whole compounds.
Effective Marketing. When we commenced the onward sale of the Strathy Lighthouse buildings, publicity was hard fought and won. Free editorial is very valuable, but can be incredibly difficult to secure.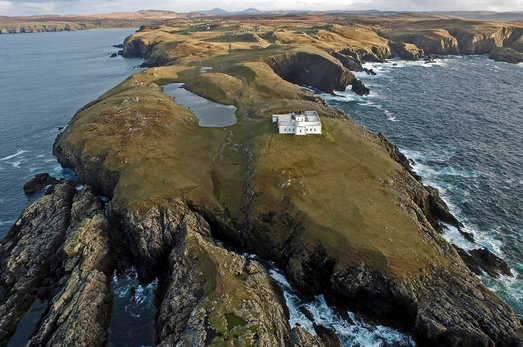 Our UPS3 – Strathy Point Lighthouse Compound Purchase & Resale
Photo Courtesy of Mr Les Armishaw
Since going online in 2012, our own "Lighthouses For Sale" website (here) has become the top ranking lighthouse property internet facility for this genre in the UK. Indeed we are attracting real buyers from international readers with our lighthouse website securing deals for residents of Germany and America.
Our Lighthouse For Sale website ranking is not a 'bought' placing at the top spot, it is organic. We earnt it. If in doubt, just Google three words: "lighthouses for sale and see what comes up?
In fact, we have several of the top spots. This is because, over the years, major newspaper articles and radio shows have their own top spots, but within the Google top spot narrative of other search results, there are weblinks right back to our Lighthouses For Sale website.
Even though some of these are old, such as the three page Telegraph feature by Jon Stock (10,000 extra page views in two hours after publication), we still receive 12 to 20 referrals to our lighthouse website daily. All of this has helped the lighthouse website pass the 40,000 unique readership number.
Click Here for the Telegraph Article
Click Here for the BBC Radio 2 links
So we have a head start in listing and selling lighthouse buildings on our dedicated Lighthouses For Sale website. It makes sense to maximise our strengths to assist syndicate projects. Whilst we are looking at similar multi-building-title-splits for windmill/granary/millhouse projects and other different genres – particularly Ministry of Defence sites, our Lighthouse For Sale website represents an ace card for resale of single buildings separated out from lighthouse compounds.
*******
Aerial Film of Strathy Lighthouse Compound
With thanks to our friend Les Armishaw, here is an aerial film showing the naturally beautiful location of Strathy Lighthouses
*******
Due Diligence & HM Land Registry Documentation
If it were not for the proof in the form of the HM Land Registry statements below, many would have significant doubt about the result. The Land Registry is an impeccable source, and so we present the fine detail for your perusal.
In the meantime, if you have any questions, please feel to contact Unique Property Bulletin…
*******
*******
UPS3 Documentation
Here are some of the supporting documentation narrating the purchase, HM Land Registry title splitting and subsequent resale of the Strathy Point Lighthouse Keepers' Houses. The first provides evidence of the £60,000 purchase process for the WHOLE compound…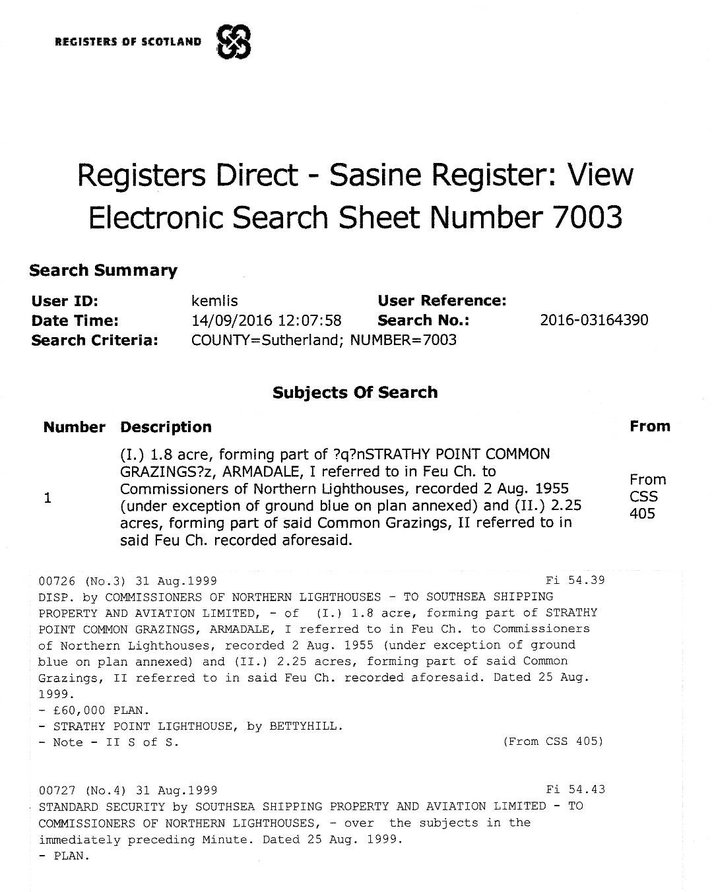 Strathy Point Lighthouse Compound: HM Land Registry Document
Government Copyright Licence C2010002126
*******
The first provides evidence of the £121,000 resale process for the SINGLE houses which we had distilled from the head title…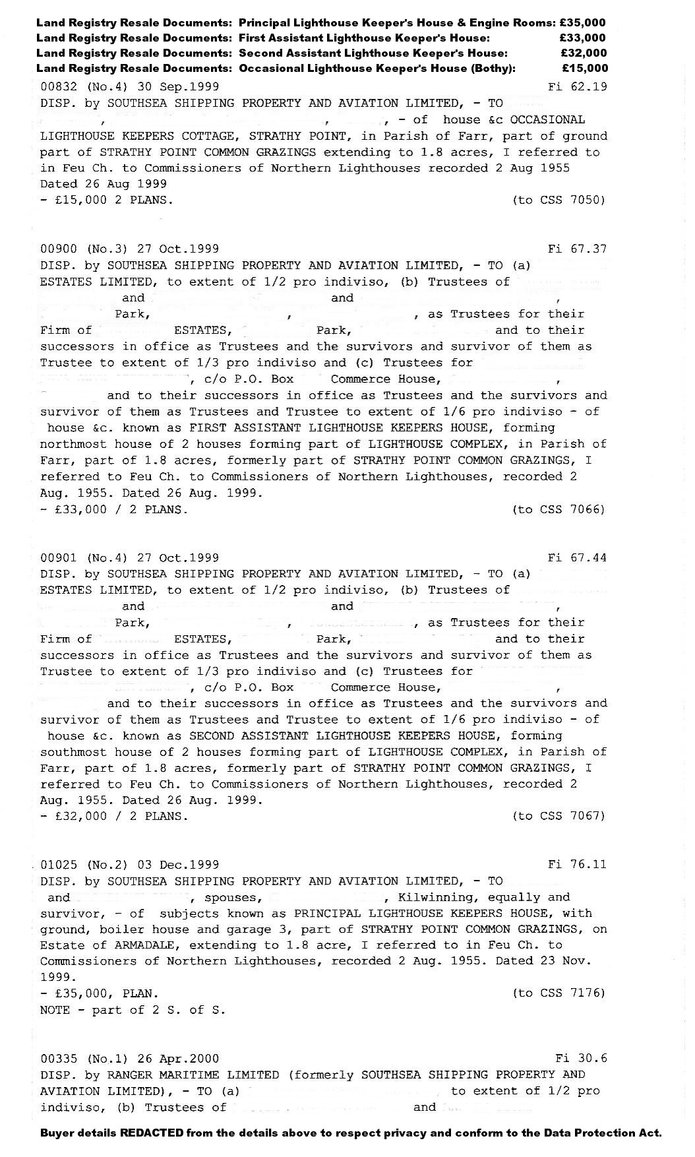 Each Buyer's Private Information Redacted To Comply With Data Protection Legislation
*******
Strathy Point Lighthouse Compound Plan
HM Land Registry Excerpt
For general reference – please do not scale
*******
Strathy Point Lighthouse Compound Layout
Guide Plan
For general reference – please do not scale