Unique Property + Argyll Group + Scotslion Group
Strict Covid-19 Safety Policies
Please note this one page message encapsulates the straightforward current time-critical policies (July 2020) in relation to all construction sites within the three main groups that we project manage. Please, for your protection and the safety of your family, friends and work colleagues, read this page and observe the rules on it in order that you can access work at the Unique Property + Argyll Group + Scotslion Group construction sites. Thankyou.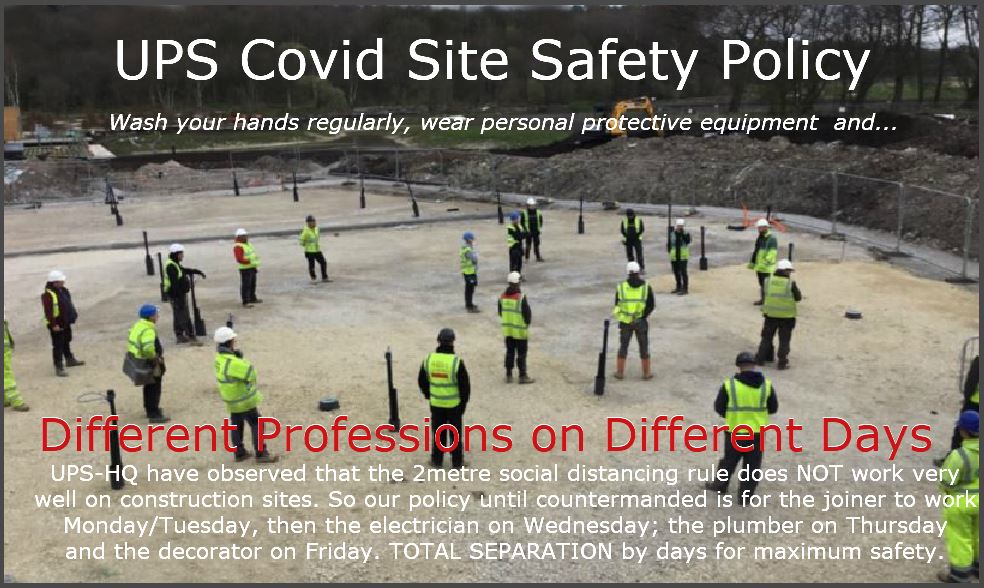 The message on this page is deliberately short so that it is easy to remember.
Until the government has Covid-19 tamed and made NON-LETHAL, we require to separate electricians/plumbers/joiners/roofers/glaziers/decorators etc.
Simply put…
DIFFERENT PROFESSIONS ON DIFFERENT DAYS
DIFFERENT PROFESSIONS ON DIFFERENT DAYS
DIFFERENT PROFESSIONS ON DIFFERENT DAYS
These are our Covid-safety traffic lights.
Whatever the government traffic-light of danger/safety says, we would add our own over-engineered safety element until everyone is absolutely sure that Covid-19 has been sufficiently eradicated and that proof of a reduction in the tragic death rates is far better than the current nightmare as at July 2020 that is especially unfolding with our friends in the American continent…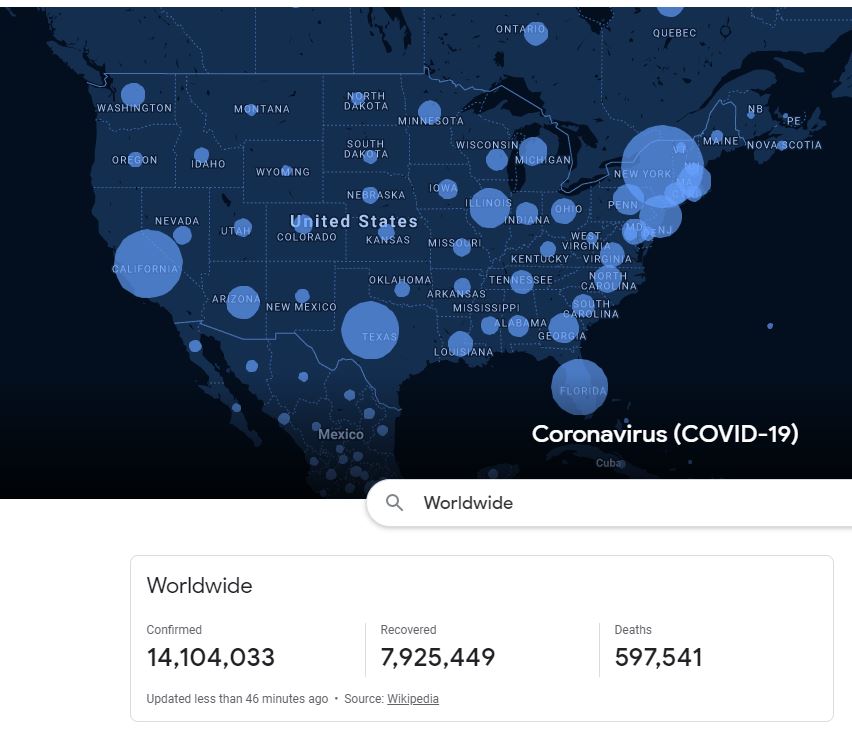 For Updated Data & The Interactive Figures…
Observe the Covid19 map of death, see where you are, then make sure you behave
safely on construction sites and for that matter safely everywhere. Thank you.
---
From what Unique Property + Argyll Group + Scotslion Group have witnessed…
The 2-metre social distancing rule does NOT work very well on construction sites.
Having also observed the devastation that Coronavirus causes up close and personal, with friends dying from this wretched virus. Consequently, we MUST insist on over-engineering the safety protocols on all of our sites.
The government recommends this…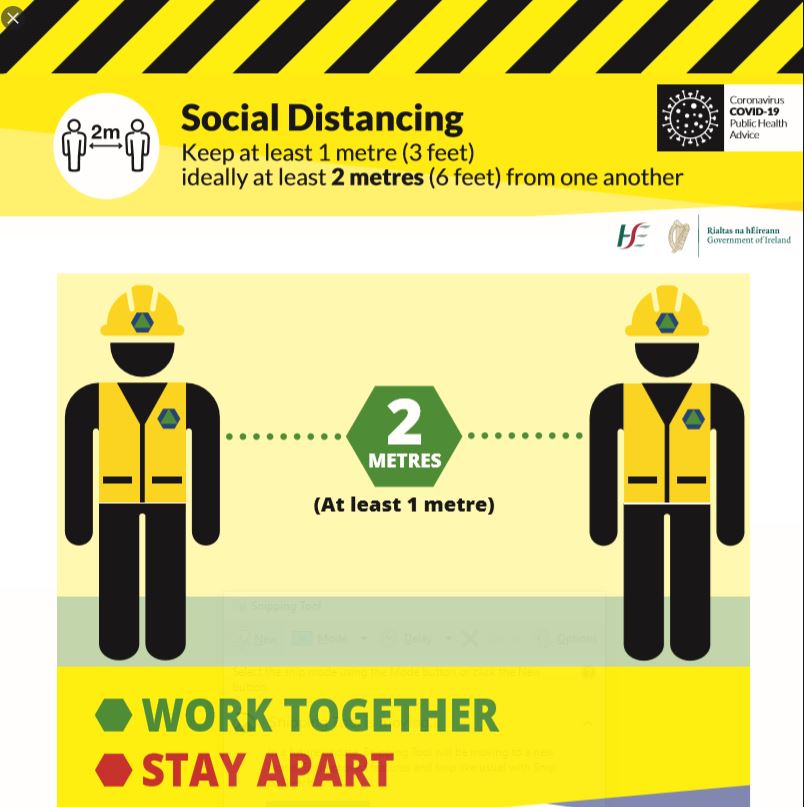 Government Recommendation. Very Reasonable. In Practice it Fails.
We do

NOT

believe

this

works

sufficiently nor safely in the

real

world.
All of our sites are currently in the UK. Our family members and colleagues who work in the construction industry have accounts of appalling situations on other sites outwith our remit, where the anti-Covid19 safety protocols that SHOULD apply are breached, time after time. Innocently, accidentally and often through decades of a phenomenon known as "muscle-memory". Actually maintaining a 2 foot safe distance is almost impossible during any given 8 hour day on a construction site.
If you doubt this…
Just think how unnatural it feels NOT to shake someone's hand or to give your mum, brother, sister, daughter a hug.
On building sites if you are distracted, it is all too easy to pass a screwdriver or hammer to a workmate.
If you have any curiosity at how EASY it is to catch Covid-19, just read this definitive report in the highly reputable medical journal, The Lancet. Of all the ordinary everyday things, A SALT SHAKER is emblematic on the ease with which 4,100,000 people can become infected and 280,000 people die from Covid19 (here).
The simple fact is you cannot see Covid-19 without a powerful microscope, so how do you know who has it? How do you know what objects. or tools or even everyday items are safe…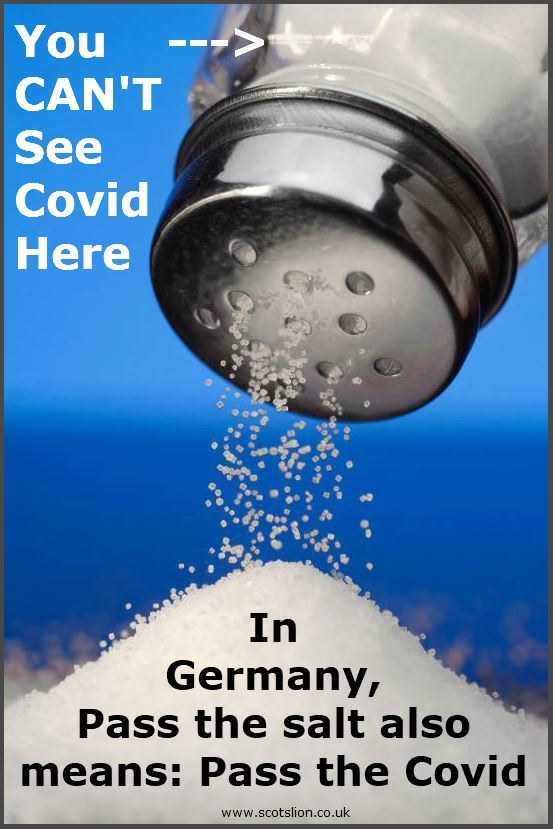 The Highly Reputable Medical Journal: The Lancet Reports…
Germany, Salt Shaker Infects Many Others With Covid19.
If a salt shaker can infect 4 then 16 then 256 people with Covid-19 that fast,
then what chance have you got on a building site when you need your tools urgently.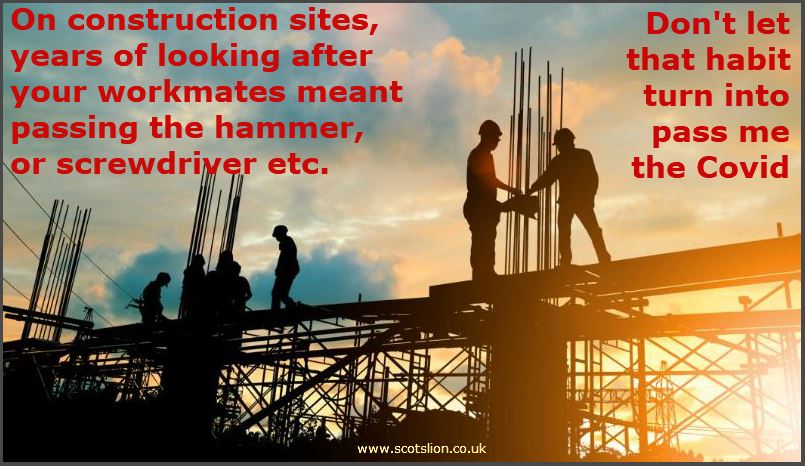 Construction Site Safety.
Until a vaccine, the safest way is total separation of the trades
Generally the riskier Covid danger-places are in high pressure locations such as London, Manchester, Birmingham and other major cities.
We are lucky. All of our sites are very rural and relatively small. Therefore we can deploy this…
DIFFERENT PROFESSIONS ON DIFFERENT DAYS
To spare the embarrassment of UK construction site breaches, we add the experiences of a random Ontario site. This is common place worldwide and very worrisome…
In this briefing, we deliberately study somewhere far away from the UK that has, sadly, had the second wave. The official figures from the great State of Florida make for disturbing reading…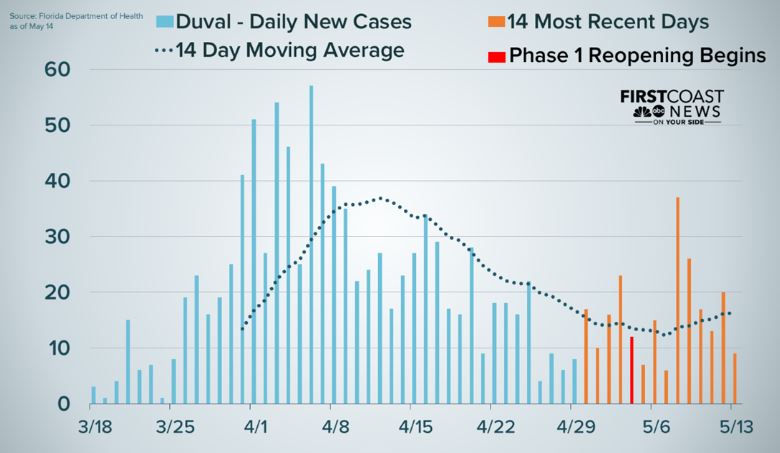 This Is The Second Wave of Covid-19 For Florida In The USA.
Here in the UK we are at the top of the world death league on Covid-19…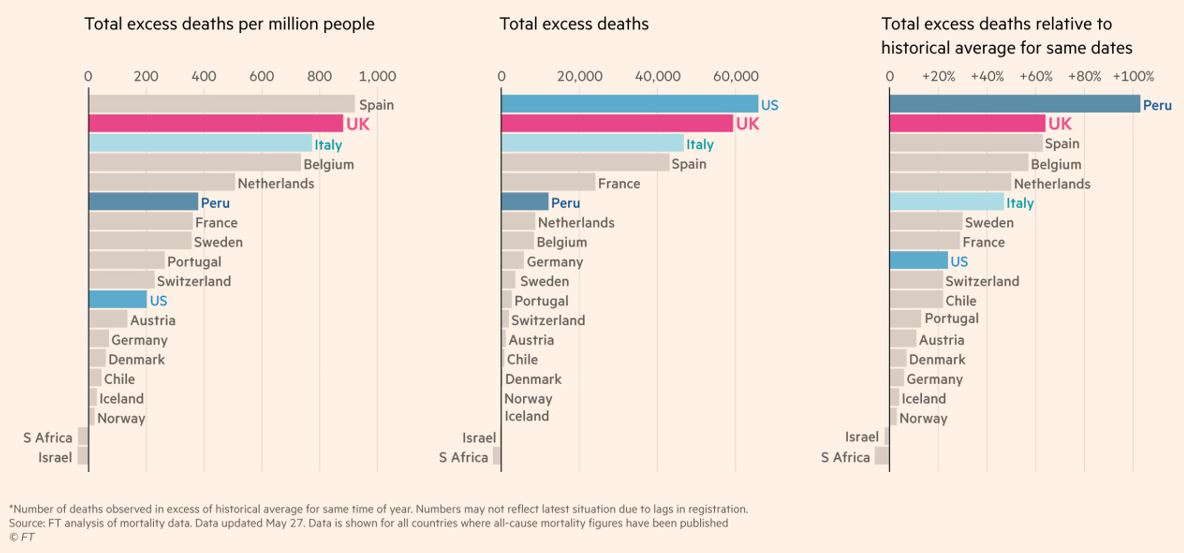 So in Britain, we have nothing to be complacent about (Source FT: Here).
PLEASE consider over-engineering your personal and professional safety standards.
The focus of different professions on their job at hand can make it incredibly difficult to get a mindset where Covid-19 safety measures rank above all else.
So it is very natural and easy for hard working joiners, plumbers, electricians, glaziers, roofers, decorators etc., concentrating on their job, to accidentally pass a Covid-19 tainted tape-measure, or hammer or construction tool to their work-mate from a different household. The only way we can come close to guaranteeing this doesn't happen on our sites is to physically separate the professions. The electrician will work on a different day to the plumber and the joiner will be onsite at a date where the electricians etc., are offsite.
Furthermore, only those professions where it is a father+and+son+daughter team or husband+wife professionals are contracted at this time will be able to rejoin our sites. Why? Because they have self-isolated together in the same household for 21 or more days and are reasonably assured to be Covid-19 clear. Unusually we have several husband+wife and/or family teams, for example the electrician and his wife work together at UPS project number 25.
Getting to site and doing so safely is also important. For Unique Property Group + Argyll Group + Scotslion construction sites we ask our contractors NOT to use public transport until the vaccine or medicine takes the lethality away from Covid-19. Seriously, this transport system in some parts of the UK is just plain lethal… 
Therefore on ALL Unique Property + Argyll Group + Scotslion Group Sites…
Please do NOT travel on public transport.. We will sort out safer ways to get onsite.
Please do NOT work on the same day as other professions on our sites until the pandemic ends.
The majority of the world's scientists and laboratories are currently tasked to find a vaccine and/or a medicine that will remove the lethality of Covid-19. This type of scientific and epidemiological research has worked brilliantly for people who have contracted HIV. Originally HIV regarded as a death-sentence. Now with a cocktail of medication, those who have succumbed to HIV will NOT develop AIDS and/or they WILL live a relatively normal lifespan. A 20 year old having an HIV infection today will live, on average, until they are 67 years old. Reputable source verification from the NHS: click here.
Until a vaccine/medication to extinguish Covid-19 is available, these site rules for UPS + Argyll Group contractors and employees and Scotslion are mandatory.
This message is simple and aims to be effective. Please work on separate days to minimise the risk of catching or spreading Covid-19.
If you do require someone to work with you, this will ideally be a father-and-son or daughter team. Two people, who have self-isolated in the same household for 14 to 21 days (as per the relevant government guidelines). All other circumstances, the protocol is…
DIFFERENT PROFESSIONS ON DIFFERENT DAYS
If you have any questions, PLEASE get in touch with…
Russ McLean
Tel/Text: 0757 2768 795
Thank you.
---
The New Unique Property Bulletin Headquarters
Unique Property Bulletin: New HQ Building.
Abbey Studios Business Centre, 280 High Street, Arbroath, Angus, DD11 1JF.
Currently being made fit for use, and Covid-resistant
Regular www.uniquepropertybulletin.co.uk readers will be aware that we are transitioning the long-term Unique Property Bulletin from being just a random internet blog run by 4 volunteers to a more sustainable endeavour that can afford to employ PAYE admin staff + freelance journalist feature writers etc.
Unique Property Bulletin will still have its core of volunteers.
But as the founder has been publishing this endeavour since 1989, which is 31 years packed full of amazing adventures, time has been taking it's toll. He has now reached the age of 61 years and is showing his age.
Not quite decrepit, but definitely more of a Buildings At Risk structure than cutting edge young architecture!
Bodily abuse in a number of physically challenging (and damaging) earlier uniformed career paths (here) have not helped.
Russ McLean. Career from 1983-1987. Just 24 years old.
Pulling 19 stone waterlogged folk out of the harbour and
large farmers needing  lifted above shoulder height onto helicopters
resulted in spinal surgery.
A career change was required.
All at sea thereafter was fun but painful. More spinal surgery was needed.
This is mainly the reason this website exists. Decrepitude & invention of a new vocation.
Russ went on to establish Unique Property Bulletin from here…
First Office: The Old Coastguard Station, Davaar Island, Argyll. Photo (c) Mr Andrew Knotts.
Second office: The Lighthouse Next Door. Thanks to Mr Turner Snr. A very kind gentleman
As such the success of this website is being entrusted to a "Legacy Project" where a fund is being put aside (The Angels' Share). That will ensure there is a guaranteed income stream from which the Unique Property Bulletin will always be able to afford staff and it's own office premises.
The reason? The result?
Rather than just let this website fade away, and especially as good fortune smiles with up to 150,000 readers of any given article (the average is a much more modest 25,250 readership), we have been even luckier in having a core group of 93 members that have ensured the Angels' Share has become a viable entity and is of sufficient standing to guarantee this website…
Helps you find your unique home and does this for free.
We are NOT an estate agency. Just a group of friends who love living in unusual places such as lighthouses, distilleries, coastguard stations and water towers to name but a few (and excluding the underground toilet conversion).
As of July 2020 we are tentatively easing lockdown and our main HQ office in Arbroath is in a part of the UK that has had NO Covid-19 deaths in the past 10 days.
We are superstitious bunch and are reluctant to mention that number. But we also have a job of work to do making sure the new HQ building gets renovated and re-opened this year.
Hence this page narrating our EXTRA Covid-19 safety policies.
To the team that are making our new HQ building fit for purpose and especially the guys making it a Covid-Robust building, complete with modern HEPA extraction + filtration units and Covid-proof office areas, PLEASE follow the rules on this page.
Unique Property Bulletin, nor our Argyll Group job-creation entity would want your life put at risk.
So please stay alert, be careful,  and follow the rules.
Very best wishes,
Russ.
————————————-
Russ McLean
Unique Property Bulletin, Abbey Studios Business Centre, 280 High Street, Arbroath, Angus, DD11 1JF
Russ McLean: Older & Hopefully A Wee Bit Wiser. 
Very few, if any of us will ever forget the year 2020.
Almost like 20-20 vision, many of us can see…
We see how precarious life can be.
We see how absolutely precious family are.
We see the kindness of our friends.
We see the humanity and decency in total strangers.
Please make no mistake, Covid19 has been a cruel and terrible virus.
But as the old adage goes…
When things are at their worst, people are at their best.
---
Russ says he knows this for a fact as it has been a humbling experience to see so many folk volunteer to help others…
Source: Sky News: Click Here
During this Covid-19 safety narrative for our building/construction sites throughout the country, Russ has asked that you consider signing a small petition to say thank-you to those folk who have placed themselves in harm's way for others…
---
PLEASE DO NOT BECOME COMPLACENT
There have been NO Covid19 deaths in Scotland for 10 days now.
But…
The rest of the UK has had 11 Covid19 deaths in the last 24 hours and hundreds over the past 10 days.
So Covid19 can come back if you drop these safety protocols too soon.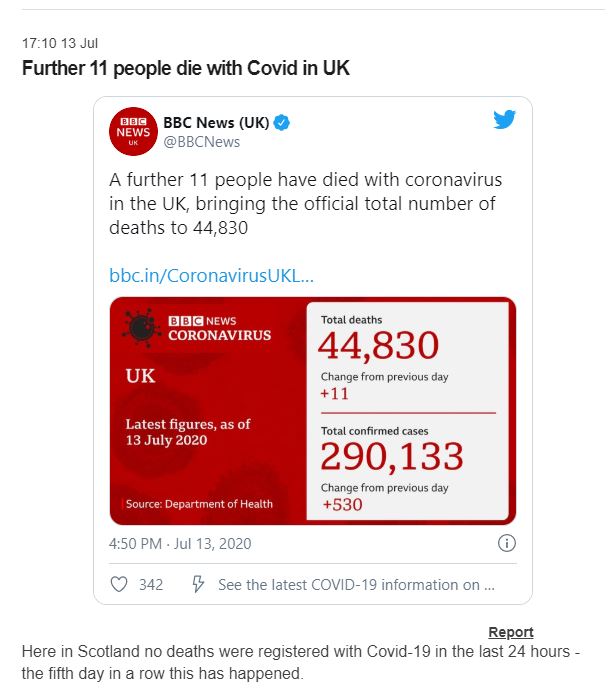 Snapshot. Scotland has ZERO Covid deaths. England has 11.
For safety's sake, well worth studying why this is so?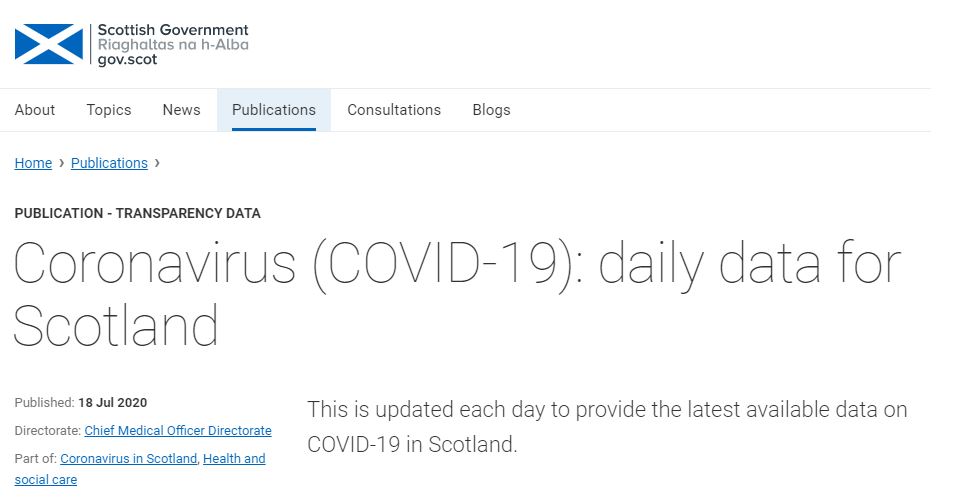 ---

---
Four of our main construction sites are in Scotland and these are experiencing a marked difference in morale due to there being ZERO Covid deaths in the past 10 days. This can lead to COMPLACENCY which may become a recipe for disaster. Avoidable disaster.
Remember the German Salt Shaker? Covid19 is so VERY easy to spread. So PLEASE make sure you adhere to the Covid safety policies until we ALL know and can see the evidence that Covid19 has been reduced to a non-lethal thing of the past.
That means the contractors on our sites in Scotland do not have permission on our sites to relax or ge rid of Covid19 safety protocols. In Scotland we will be following the same safety rules in getting rid of Covid as on our sites in England. We won't know until the clever Ph.D., students analyse the tons of data, but following over-engineered safety rules might be a factor in the reason why…
Scotland has zero Covid19 deaths in the last 10 days and England has 208 Covid19 deaths.
PLEASE keep alert and follow the Covid19 working site safety procedures. Thank you.
---
Pass The Salt Shaker, Not The Covid
Okay this is a bit of dark humour, but these days, we can all do with a smile…
In Germany, A Salt Shaker caused A Covid19 Outbreak.
We all need to be mindful Ho To Learn From These Lessons
Pass the salt please, not the Covid
Source: here
---
For The Important Government Construction Site Guidelines…
---
A Safe Journey To Work At Unique Property Project 25
Turn the sound off, the music track is an assault on your hearing!
The journey is 6 years ago long before Covid-19.
ut it is the precise journey one of our contractors makes and is MUCH SAFER than London Underground....
Going to work in your safely distanced car "bubble" and saying safe onsite all day is our aim.
But we can only do so much. 
YOU are also responsible for your safety and that of your fellow workmates who will be onsite the next day. Before you leave, please wipe down all surfaces, door handles, taps and other places where Covid-19 might lurk with suitable disinfectant and handwipes. Thankyou.
This lethal virus does die off itself on inanimate non-biological surfaces fairly quickly, but the cleaner you can leave the communal surfaces between shift changeovers, the safer everyone will be.
Thank You For Reading This Safety Announcement.
Any questions please call or text one of the… 
Unique Property + Argyll Group + Scotslion Group Safety Team…
Tel/Text: 0757 2768 795.