Completed Property Club – Details For Reference & Research
Unique Property Syndicate 17
Purchase Price £22,500. Resale: £46,000.
Gross Profit: £23,500
Owned for 59 days: click here.
"How do you choose a unique property candidate?" This is a question that is often asked by members and readers of the unique property syndicate website. The specific example on this page is a reasonable illustration. Serendipity. Often it is just a case of looking out of your window! Perhaps having a drive or a walk around the local area helps too. Whatever it is, this particular day resulted in 4 friends turning £6,000 each into £10,694. The total net resale receipt: £42,778.34.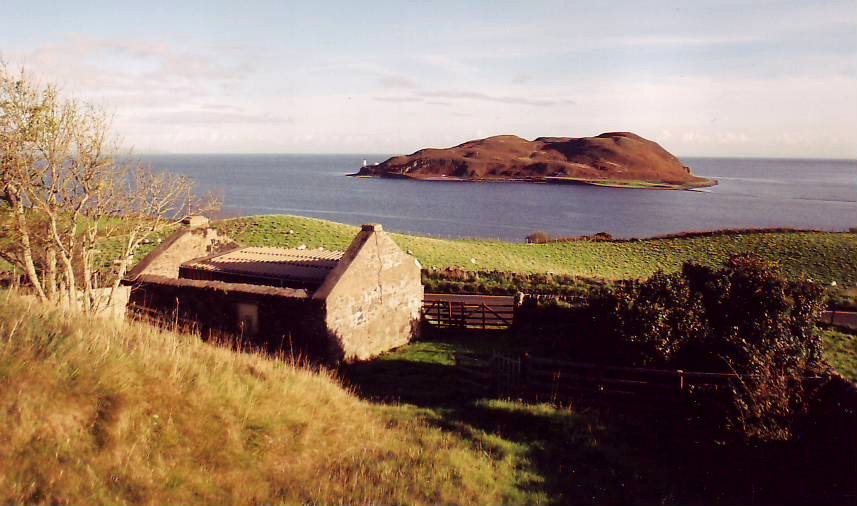 The Old Stables, Davaar Island View
In the photograph immediately above you will see a small island. To the left is a lighthouse tower. By that is an old coastguard station. Here is the upstairs room in that old lookout. More interestingly for our purposes is the view from that big window…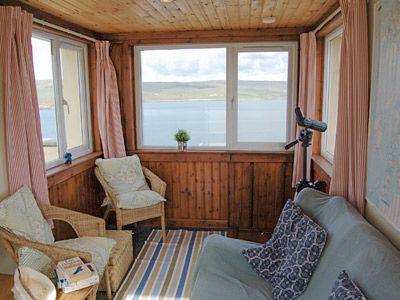 The Old Coastguard Lookout on Davaar Island – Good For Looking Out At A £23,500 Profit!
From this room you can make out the old steading and stables/barn buildings across the water with a magic set of these…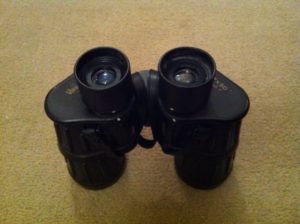 Very Lucky Binoculars
I was looking out, using these very binoculars at ships passing by, and saw a piece of land on the opposite side of the loch. I had actually driven by that property a 100 times and more…

Close Up & Easy To Miss: The Old Steading Ruin From The Main Road.
Click here to see how it looks on Google Streetview and imagine driving by at 30 miles an hour – eyes tend to be drawn to the sea view and small island. Away from the hillside and old ruin.
However, when you look through the trusty binoculars from Davaar Island, you see something interesting. In fact it is a plot of land with two detached buildings on it…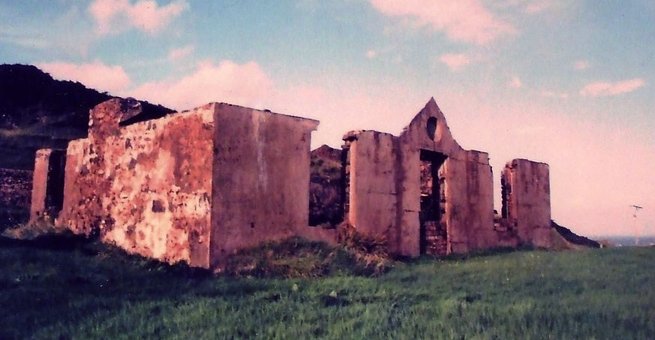 The Old Steading – Higher Up The Hill
An alternate angle of this unique old structure…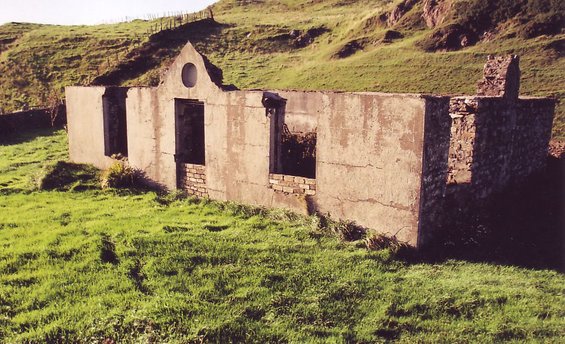 The views from this old ruin back across the loch were equally beautiful…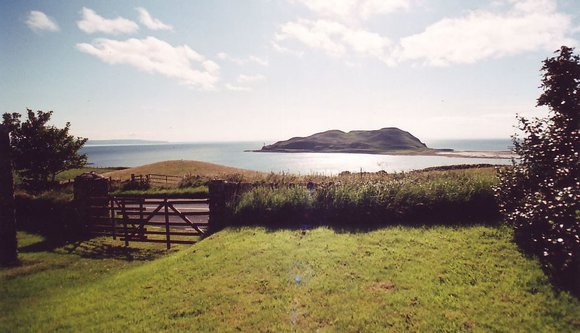 Having travelled from the island for a close-up look of the old steading, and the small barn, the interest was piqued. Utilising techniques that now feature in the Unique Property Manual led to a successful location of the owner's contact address.
Meanwhile back at the office, there was a special red phone-book with around 72 folk from the Unique Property PLC days when our property clubs were at their peak. Many members were – and remain – very good friends. Sensing a small property syndicate, three telephone calls later my friends and I now had a total of 4 x £6,000 ready to buy this old steading and the land upon which it sat for £24,000. As things progressed, we eventually got it for £22,500 which was all good and fine. This left a little £1,500 extra on deposit with the syndicate solicitors to cover legal fees and auction costs etc.
*******
Click Here To Join Our Syndicate Email List For News Alerts
*******
All four of us would have liked to hang onto this particular building site, but after our traditional Plan A process (robust remarketing and prompt resale following initial purchase) we were made an offer that was very difficult to refuse – helped by one of our favourite auction houses…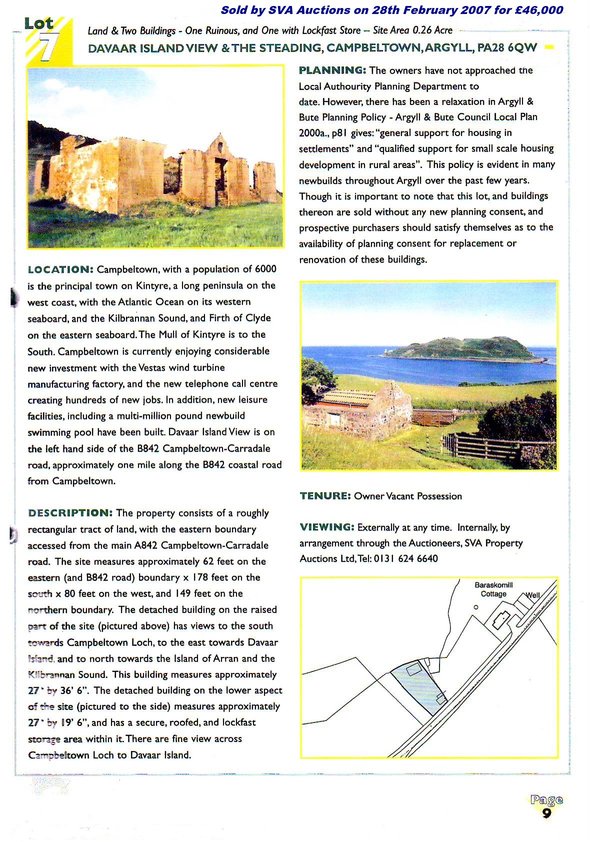 *******
Members' Choice? How About You?
If you study the actual results and supporting Land Registry documentation proofs below, you will see that this relatively small unique property syndicate of four friends had a fairly easy decision to take. Either keep this piece of development land with the two detached buildings and nice sea views, or accept what was by any standards a particularly handsome profit and move onto the next project, whenever and wherever that may be.
If you had sent £6,000 into the syndicate solicitors and were faced with the decision making process, which way would you have gone? Keep the land, or accept a profit? Receive a cheque for £10,694.58. The full and definitive numbers for UPS17 are:- 
Gross Profit: £23,500
Net profit: £20,278.34
Solicitors costs plus auction fees etc: £3,221.66
Four friends popped £6,000 into this property club solicitors and were astounded that owning this piece of land with a couple of old ruins on it would mean a return, after the site was resold by the club in the amount of…
£10,694.58
This was payable to EACH syndicate member.
That equates to a net profit of £4,694.58 for each member of UPS17. This was one of the last syndicates we ran, prior to going dormant during the global financial crisis. Our general membership felt a sabbatical was the prudent thing to do until the banking industry sorted themselves out. Plus the nest eggs of each member had accrued was getting to a point where individual property adventures were becoming possible. Owning a home without a mortgage, and an unusual abode each was and is an attractive part of this process.
Please note, for the sake of good form we MUST advise that the profits proven (documentary proof below) can NOT be guaranteed.
The majority of members are content with a 10% to 15% return. With two property deals a year this is very respectable. Especially as all building purchases are asset backed and on a 100% equity basis so worst case scenario, we are "stuck" with a piece of land or building that will, in most cases, retain a core value that cannot be extinguished. If you study this Unique Property Syndicate website you will see we often exceed the 10% to 15% profit guide – as in this example of UPS17. But we must emphasise that we cannot guarantee profitability of any of these adventures.
Unique Property Syndicate 17: Address – The Old Steading, Davaar Island View, High Baraskomel, By Campbeltown, Argyll, PA28 6QW.
Unique Property Syndicate 17: Aerial View: Click Here
Arithmetic adjustments: To ensure the solicitor has sufficient to purchase the land and buildings, plus cover legals fees and HM Land Registration dues etc., we all sent in £6,000, totalling £24,000. This is £1,500 over the raw purchase price. The numbers above reflect the appropriate arithmetic process leading to the net distribution.
*******
Deeds & HM Land Registry Proofs
Purchase By Unique Property Syndicate 17
Bought for £22,500 on 1st January 2007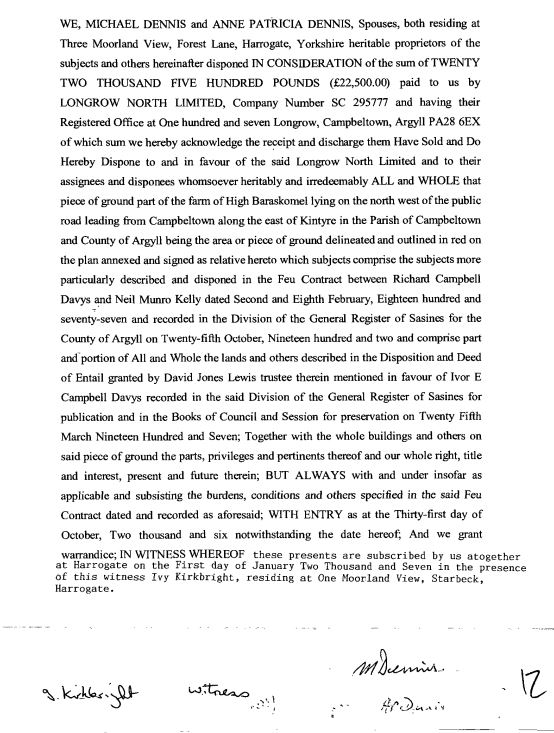 HM Land Registry Title Plan…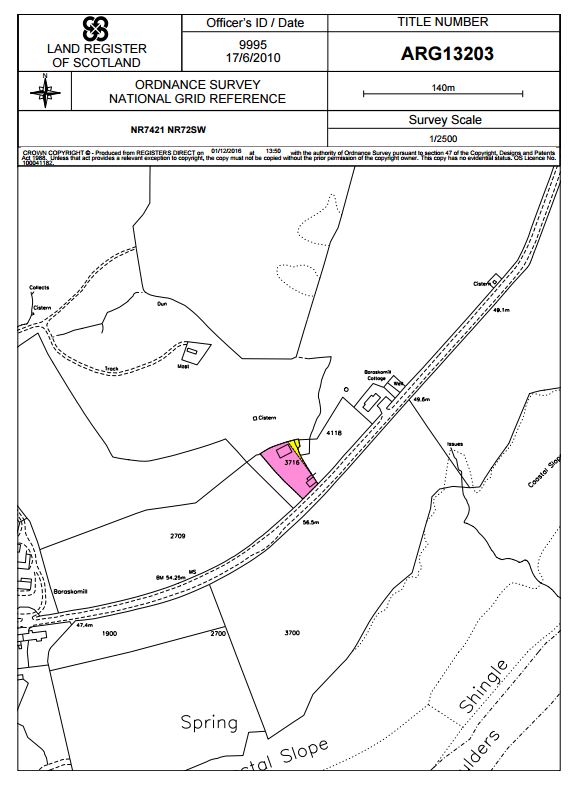 The Old Steading, Davaar Island View, By Campbeltown, Argyll, PA28 6QW.
*******
Unique Property Syndicate 17
Resold by UPS17 for £46,000 on 28th February 2007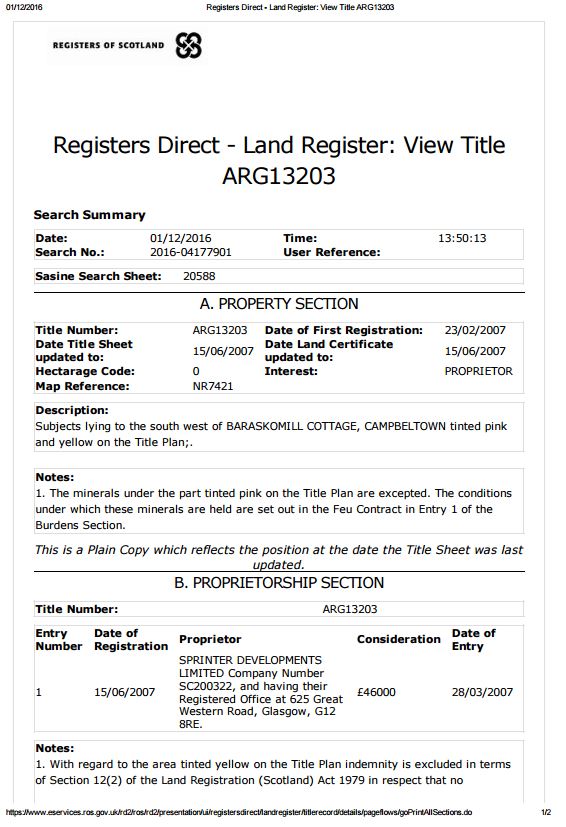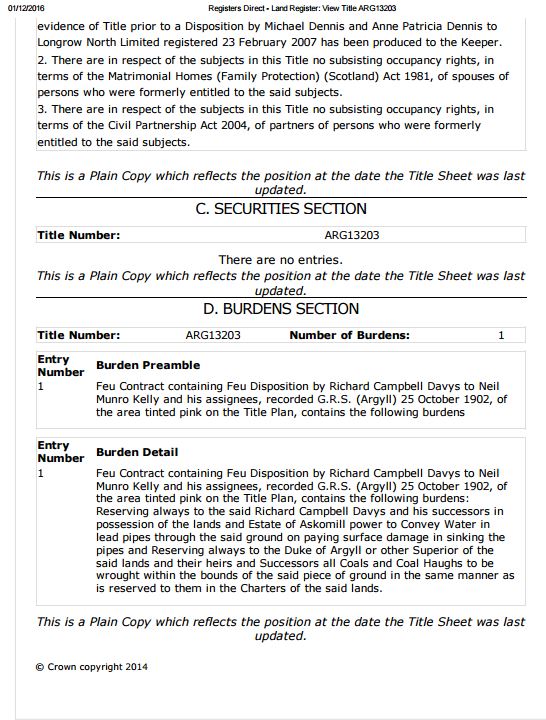 *******
Costs
Solicitor Conveyance: Inbound/Outbound + Auction Attendance: £881.25
Auction House Fees: £657.49
Planning + Publicity + Stamps & All Other Costs: £1,682.92
Total Costs For This Project: £3,221.66 
*******
Any questions, please click here and we will make best efforts to answer. Thanks.
*******